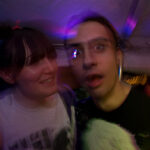 So…  three weekends since Festinho and here I am gushing about another small, intimate and friendly festival.  This time it's Flangestock, a private party on a campsite in Suffolk, put on by a good friend.
This is my third visit and it gets better every year.  This year it moved from its more usual date in May, to mid-September, but the weather behaved itself, putting August to shame.
Great people, a relaxed atmosphere and some fantastic music from the DJs set the scene for one of the parties of the year.
Bring on Flangestock 2011!
Here's a set recorded last thing Friday night – Awe Soundsystem reunited for the evening.