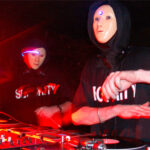 Lawgiverz are an outstanding act.
Two DJ's combine to showcase some of the most powerful glitchy bass and breaks you will hear, incorporating scratching, cuts and FX to create a devastating soundscape that can move you. Physically!
This mix was recorded live in March 2008 and put up for download by the people from Bass Plus!, but is, unfortunately, no longer available for your listening pleasure from the site.
So I've put it here for posterity, as it's just brilliant.
In many ways this mix is different to what many expect from Lawgiverz, but it really shows that they are about more than heavy basslines. Over more than two hours, they traverse through a diverse selection of music, combining the driving heavy bass sounds with the more mellow, laidback glitch, dropping the tempo, building things up again. At times, you find yourself asking if you are still listening to the same set, as it chops and changes with ease, sweeping through styles and emotions.
Check it out for yourself. It really is a beautiful 2 and a half hours of live mixing and a rare glimpse of what a live set should be all about.
A true journey.
Lawgiverz are residents at Trigger, in Birmingham, UK and you can buy their music from the Lawgiverz minisite at addictech.