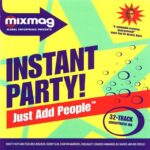 This mix, given away for free with Mixmag in December 2001, really has stood the test of time.
Like many other people I know, it is so good that I have an empty CD case at home and, not being able to buy an original, someone was kind enough to provide an mp3 of the mix, which I've decided to make available to download here.
It's a great mix, featuring 30+ tracks covering Hip-Hop, Funk, Breaks, Reggae and the name  is quite appropriate.  Put this on and the party won't be far behind!
Tracklist
Krafty Kuts – Intro
J-Walk – Soul Vibration
Jerry Beeks – Bronx Slang (LP Version)
Biz Markie – Turn The Party Out
Breakestra – Cramp Your Style
Kid Creole And The Coconuts – Stool Pigeon
Krafty Kuts – Ill Type Sound (Krafty's Mixmag Party Mix)
S.O.U.L. – Burning Spear
Shakedown – Get Down (Club Version)
Atari Boys – The Funk (Acappella)
Stompa Phunk – The Crowd Seems To… (Burns Move Right Mix)
Markus Nikolai – Bushes (Norman Cook Club Remix)
Fatboy Slim – Star 69 (Acappella)
Phil Kieran – Chunka Funk
Disco Assassins – Hook You Up
Freq Nasty – Amped
Arc-En-Ciel – The Juice
Meat Katie – Work Ya Body
Humanoid Stakker – Humanoid 2001 (Krafty Kuts Remix)
Sounds Of Vancouver – Take It (Krafty's Dub Mix)
Soul Of Man – Killa Brew (Killa Mix)
Laidback – Wait For The Break
Stanton Warriors – Da Antidote
Krafty Kuts – Street Freakz
Krafty Kuts – Get Funky
Praga Khan – Injected With A Poison (Krafty Kuts Remix)
Precision Cuts And Rickie – Whoop Whoop Always True
Deejay Punk-Roc – Blow My Mind
Krafty Kuts – Funky Ass Beats (Ed Solo's Breakbeat Mix)
Krafty Kuts – Lock The Hype
Shimano – Dopestyle
Jah Screechie – Walk And Skank