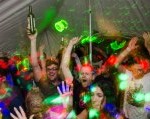 Once more, I find myself singing the praises of Flangestock, a small festival of friends held each year, somewhere in Suffolk.
To say we were blessed with the weather would be an understatement. Despite being a few weeks into September, the sun shone like it was mid-summer.  As the sun set on Saturday, the tent began to fill, as Ryu from Rockit Science performed a great warm up, teasing the crowd along to the point where The Plumps' 'Creepshow' seemed a good starting point to me.
About the only part of my set I had planned was to lead with 'Chariots Of Fire' by Vangelis, seeing as how it was the year of London2012, but decided it might kill the crowd.  From then on, it was just a case of smacking them out and it went down really well.  So nice when people keep saying thank you for the set for hours after.
Following up on that night was Jung, who smashed it and the mighty collins303, who did another stellar trademark set full of 80′s love and vocals.  The crowd finished singing again.
Big love to all involved… the djs, the crowd and of course all those who helped organise, especially the one and only Emskina Flange.  What a host!
Here's the recording of my set for your ears.  Until next year…?  Unless anyone else wants to book me.

Tracklist
Plump DJs – Creepshow [2004]
Kosheen – Catch (Decoder Vocal Remix) [2001]
Unknown – Orbootal [2003]
Stanton Warriors – Hope Time [2006]
Dopamine – Zoit [2005]
Ils – Music [2002]
Move Ya & Steve Lavers – Dopefreak [2004]
PMT – Gyromancer (Stanton Warriors Remix) [2005]
Karton – Spacetrip 82 (Beta Remix) [2009]
Freeland – We Want Your Soul [2003]
Koma & Bones – Questo E Sporco [2003]
Freestylers – Now Is The Time [2001]
The Breakfastaz – Kick It [2004]
And please 'like' shaman if you like.